Ferruccio Maierna
Designer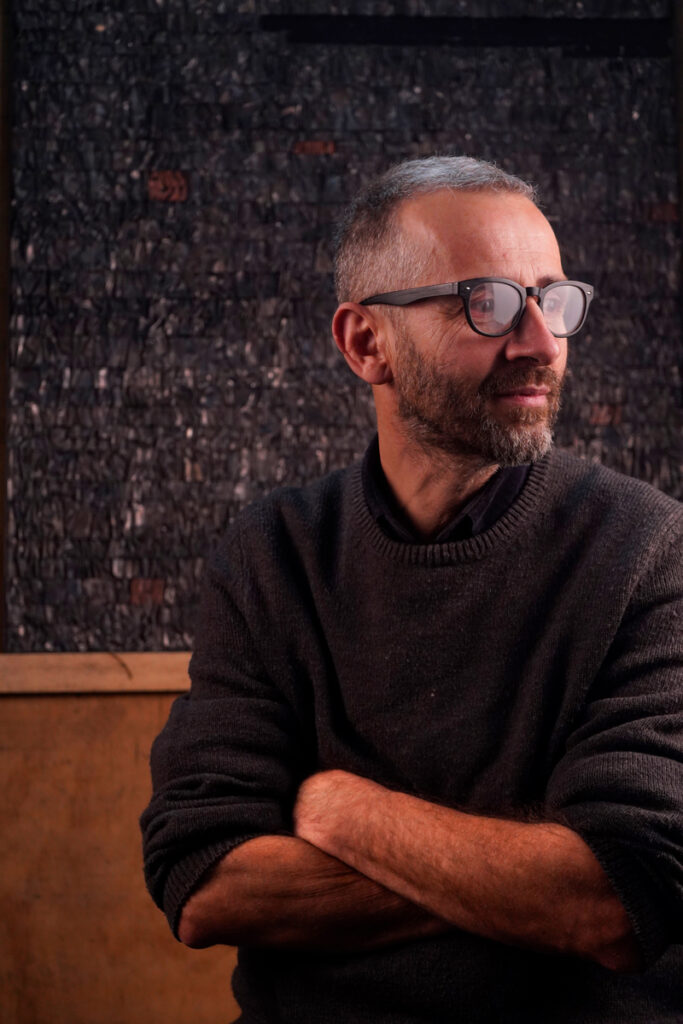 THE STRATIFICATION OF OUR EXISTENCE
Styl'editions met Ferrucio Maierna, a sculptor born in Amsterdam in 1969. He lived in Brussels for the period of his personal training and then moved to Italy, more precisely to Rome where he currently lives and works.
Conceptually, the artist is close to the creativity of recycling and recovery; the selected material is worked entirely by hand through various processes, more or less rudimentary and sophisticated: compression, lamination, extension…
These are the key words that circumscribe the work of sculptor Ferruccio Maierna who gives new life to discarded material. The styl'editions surfaces imprint matter on matter, metal and paper coexist in a synergy of sublime chiaroscuro.
Who is Ferruccio Maierna?
"I am a sculptor who mainly works with metal. The material used is recycled, such as oil drums or jars that are destined to be thrown away. A material that allows me to express myself at my best, which I approached by chance and with which I have established a symbiotic relationship"
What does the work Traces of Memory tell you?
"Trace of Memory is a work on the theme of stratification, a metaphor for our existence. Over the years, we experience a succession of positive and negative events that accumulate one on top of the other. All these events shape us, mould us for better or for worse"
What does it mean to translate your work onto large design surfaces for styl'editions?
"It is interesting to see how metal is printed, imprinted on paper. It's a way of connecting painters, sculptors with people who wouldn't be interested in art."
The influences the artist received at the Belgian academies l'Ecole des arts d'Ixelles and the Academy of Anderlecht brought him closer to metal, which has now become his preferred material for his sculptures: since 2015, his art has focused on reinterpreting oil drums and jars, becoming his preferred means of expression.
During his career as a sculptor, Ferruccio Maierna has received many awards and recognitions, the most recent being the 2017 'Lewton- Brain Foldform competition' organised in the United States.

TRACCE DI MEMORIA
Oil drums manipulated, worked with meticulous, invasive and violent transformation processes. Compression, burning, lamination, extension, cutting, which graft to inorganic matter, cold, apparently devoid of any poetry and soul, a principle of life. The sheet metal becomes a skin on which time inevitably leaves its mark.
Ida Mitrano writes: "The surface is crossed by furrows. Wounded, wrinkled, that human material preserves in itself the memory of what it has been, traces of distant yet present experiences. A story written between the folds of the sheet metal, marked by an internal, intimate rhythm, capable of generating an unexpected event. Imprinted on the thin sheets piled up, compressed, superimposed, that make up the works. A modus operandi aimed at rediscovering the sense of the human, of life. Sculptures that silently scream, explode, shatter. And yet, dignifiedly composed. A modus operandi that becomes a creative mantra in the repetition of the gesture, in the continuous succession of the material, in the rhythm of the movement, in the sensitive vibration of the surfaces between light and shadow. A time sought, a time given. The time of memory. The time of life".