Luca Dall' Olio
Brescia – ArtStudio Residence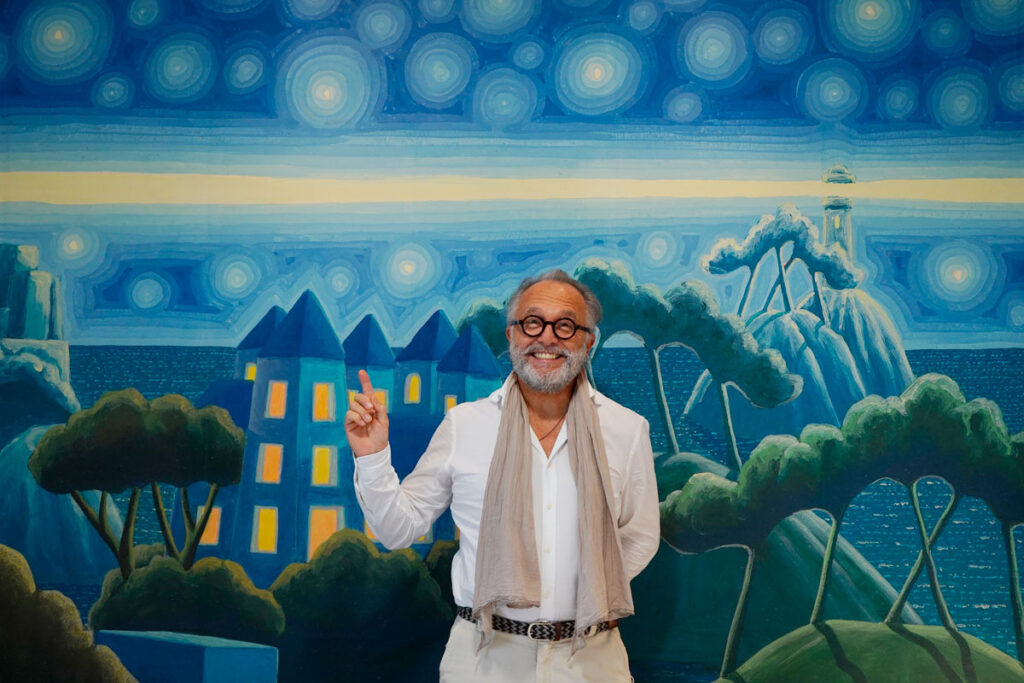 A CHROMATIC CELEBRATION OF DREAMS
Styl'editions is proud to present Luca Dall'Olio, an all-round artist who places the theme of dreams at the center of his research. Some of his works have been reproduced on wallpaper, a way to evoke the dreamlike and fantastic dimension in the architectural space through colors and shades. The painted enchanting landscapes sublimate the beauty of Italian villages with the sky, sometimes starry, sometimes pervaded by the Mediterranean sun. Key elements in the genesis of these works are curiosity and travel. These themes are evoked by ships going out to sea, by beaches on which we make wishes and by stars fading into the blue of the night.
For Dall'Olio, colours are powerful means of expression used to compose his works. These colours are wonderfully enhanced by the high-end quality of Styl'editions wallpapers.
Styl'editions met the artist, visiting his workshop and the ArtStudio residence where the collection "Ti cammino sul cuore" on our wallpaper is applied.
Who is Luca dall'Olio?
"Basically he is a dreamer, I can't imagine a life without dreams and therefore I let myself go very often. I think that in the moment of dreaming, we are really ourselves. What I prefer is painting, because there are enchanted worlds of mine that make me want to discover something every day, to explore these atmospheres, these lights, I really imagine myself walking through these landscapes."
Tell us about the Styl'editions collections
"An element that recurs in my paintings is the lighthouse. Imagine a sailor who, in the last century, without electronic equipment, navigated with only the help of the stars and the compass, and now imagine how would be his relief in seeing the light of the lighthouse, a precise point of reference. It must have been a very heartening moment. For me the lighthouse is both a physical and spiritual reference point."
What does it mean to translate your idea on a large scale?
"A beautiful thing was to see one of my paintings translated into wallpaper, this material has been used throughout history for so many years. We have a tradition here too, a revised tradition. My satisfaction with seeing these subjects on wallpaper was as great as the idea of sharing my dreams with other people. It's like I'm there, in those landscapes, with the wallpaper users."
TI CAMMINO SUL CUORE
The enchantment of a Mediterranean landscape covered by endless starry skies, the patient moon that always accompanies us in the night knows our innermost secrets.
From the sea rise small islands on which are built castles and fortresses, homes of princes and queens, which served to defend themselves from enemy attacks; small villages on a human scale, where I would like to live, surrounded by lush vegetation and roads to travel with the imagination.
Columns and remains of ancient civilizations recall the continuous return of history, that it may be a warning to build a future of joy and spiritual enrichment.
A dream world because it is impossible to imagine a life without dreams.
The collaboration between Styl'Editions and Luca Dall'Olio is a chromatic celebration of dreams. The products resulting from this collaboration are a means for the user to open the door of fantasy in any space.